Award:
Orange County Register - Real Estate Briefly
Dec 28 2015
REAL ESTATE BRIEFLY: BIXBY LANDS MISSION VIEJO OFFICE BUILDING FOR $15.6M
By Angela Ratzlaff December 24, 2015
New Ventures
Newport Beach-based Bixby Land Co. has purchased Mission Heritage Center, a four-story, 70,948-square-foot office building at 27401 Los Altos in Mission Viejo. The property was sold by New York Life Real Estate Investors for $15.6 million or $220 per square foot. New York Life was represented by Kevin Shannon, Paul Jones and Blake Bokosky at CBRE. The building was 59 percent leased at the time of the sale. Tenants include real estate, finance and insurance businesses. Bixby will invest $5 million into the project for common area improvements, leasing costs and construction of spec suites on the second and fourth floors. This is Bixby's fifth Orange County acquisition in the last two years.
Encino-based NAI Capital Company's senior vice president Steve Heri and vice president Steve Gim completed a $3.5 million sale of a 23-unit apartment building at 1431 Nisson Road in Tustin. They both represented the buyer, Nisson Road LLC, and seller, Cal Receivers, in the transaction, which amounted to $150,000 per unit. The building is a 16,400-square-foot complex with an average unit size of 750 square feet. At the time of the sale, the building was 100 percent occupied.
---
Milestone
Newport Beach-based R.D. Olson Development received the Partnership Circle Award from Marriott International during its 2015 Connect Conference. The award recognizes organizations for supporting Marriott hotel brands and providing outstanding customer service. R.D. Olson has
completed several Marriott brand hotels including Courtyard by Marriott hotels in Irvine, Oceanside and Goleta, and Maui, Hawaii; Residence Inn by Marriott in San Juan Capistrano; and Residence Inn by Marriott and Fairfield Inn & Suites hotels in Tustin. The company is also scheduled to complete two Residence Inns by Marriott, one in Old Town Pasadena and another in Wailea, Maui, by spring of 2016.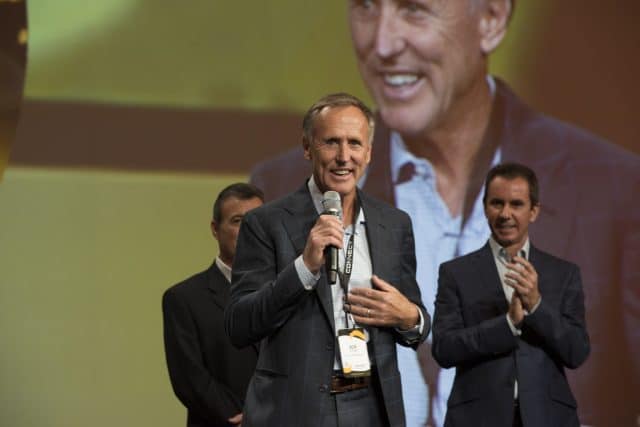 ---
On the Move
Irvine-based Voit Real Estate Services has announced a new board of directors and appointed an executive team that will lead the firm as a broker-owned company. The new members of the executive team will work closely with the recently appointed chief executive officer, Eric Hinkelman.
The new board of directors includes members:
• Bob Voit, founder and chairman of the board
• Mike Hefner, an executive vice president in Voit's Anaheim office
• Randy LaChance, a senior vice president in Voit's San Diego office
• Mitch Zehner, an executive vice president in Voit's Anaheim office
• Frank Geraci, an executive vice president in Voit's Inland Empire office
• Trent Walker, an executive vice president in Voit's Irvine office
• Seth Davenport, a senior vice president in Voit's Anaheim office
Voit also appointed Vance McNeilly as chief operating officer. McNeilly, who joined Voit in 2011, previously served as Voit Real Estate Services' chief financial officer. Eva Abrego was appointed to director of operations. Abrego formerly worked as business operations manager for the firm's Irvine office. She joined Voit in 2014. Also, Jessamyn Wilkinson was appointed director of marketing. She joined Voit in 2011 as the firm's marketing manager.